Meeting rooms in Kuala Lumpur are made up of many shapes and sizes. With more and more companies opting for a more casual setting for their meetings. Venue providers, including us at iSpace, are finding new ways to furnish our meeting rooms in KL to cater to these rising demands.
In this article, let's take a look at some of our smaller meeting rooms which are perfect for your internal meeting, brainstorming session, or a big pitch with your clients.
It is also important to note that meetings are no longer constrained to only face-to-face meetings, with the recent pandemic, the rise of virtual meetings in KL is also fast becoming the new norm.
Let's explore 3 Meeting Rooms at iSpace KL
1) Brilliant Meeting Room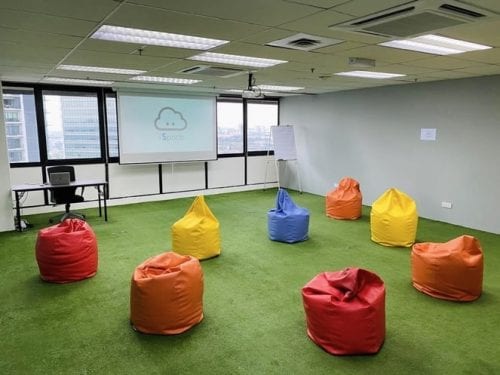 As seen above. The Brilliant Meeting Room in Kuala Lumpur is furnished in a more casual setting with colorful bean bags spread across the meeting room. Another attractive feature of this meeting room is the grass carpet. The combination of bean bags on grass carpet gives out a vibrant and fresh atmosphere. This setting is perfect for meetings that are more laid which allows for more freedom and creativity.
The Brilliant Meeting Room is also equipped with basic amenities such as a projector, PA system, flip chart board, WIFI internet, tables & chairs, and power sockets on the walls and ground. Guests visiting iSpace will also be able to enjoy complimentary refreshments at the pantry throughout the day.
2) Amazing Meeting Room
The Amazing Meeting Room in Kuala Lumpur is the next biggest room after Brilliant Meeting Room. With a total build-up of approximately 900 sqft, the Meeting Room offers a comfortable setting that can accommodate between 15-20 pax comfortably. Unlike the conventional meeting rooms, all our meeting rooms have windows that provide natural daylight without direct heat from the sun. This feature is a plus point as natural daylight produces positive energy that will energize and uplift your meetings.
As seen in the photo above, the Amazing Meeting Room can also be set up in more than 1 seating style simultaneously. Also known as a hybrid setup, combining both traditional boardroom settings and modern casual styles is achievable when there is extra space.
3) Marvellous Meeting Room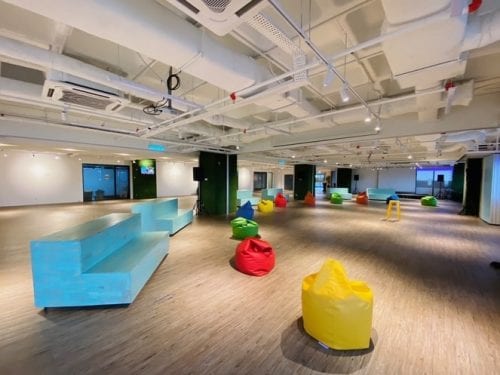 We saved the biggest for last. A big meeting room does not necessarily mean you need a big crowd. More and more companies are constantly finding ways to engage and motivate their employees. With a large meeting room, not only your employees get to enjoy a large unobstructed space full of freedom without any restrictions on movement. A large space also allows for extra activities post-meeting.
Activities such as cookie decorating, group yoga, Zumba, and aerobics are just a few activities that are great to be conducted after a meeting as this will not only help lighten the mood after a long meeting, but it also helps forge a stronger bond between team members and their managers.
---
Fully Equipped Meeting Room Available For Rent Today
All our meeting rooms at iSpace are equipped with Projector, white screen, PA system, wireless mics, WIFI, tables & chairs, flip chart board, marker pens, coffee, tea & water.
To complete the entire experience, we are also able to provide F&B packages throughout the day. The usual meeting package for F&B includes a breakfast, lunch and evening tea break. Special treats such as ice cream, fruit cups, and more are also available, upon request.
To find out more about our meeting rooms, click on the tab below:
Explore Meeting Rooms